Contact Us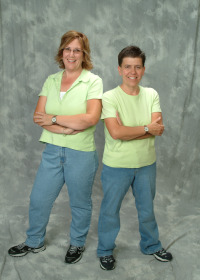 _________________________________________
Feel free to contact us with any questions you may have or to discuss any real estate needs. Just fill out the form below and we will get back with you as soon as we possibly can. Or just pick up the phone and call Carrie at (303) 931-3629 so we can begin helping you right away. We look forward to hearing from you.
SampronSisters does not share your information so contact us with confidence!
Please feel free to contact us for any of your real estate needs. Simply fill out the form below and we'll return your message as soon as possible.
How to contact us:
REALTORS® Carrie Sampron and Kathy Sampron specialize in residential real estate in Highlands Ranch, Colorado, as well as in surrounding communities in Metro Denver. Contact Carrie Sampron at 303-931-3629 or Kathy Sampron at 303-931-3780 to list your property for sale or to purchase a home in Highlands Ranch, Denver, Lakewood, Littleton, Arvada, Centennial, Greenwood Village, Cherry Hills Village, Castle Rock, Parker, Aurora, or any other Metro Denver community. We also appreciate your referrals!
If you are selling a home in Highlands Ranch, SampronSisters.com will be delighted to help. If you're interested in buying a home in Highlands Ranch, we can help with that as well. Also, visit our website www.SampronSisters.com to find out the current value of your Highlands Ranch home.
Learn more about Highlands Ranch Colorado REALTORS® Carrie Sampron and Kathy Sampron
Search Highlands Ranch and Metro Denver homes at SampronSisters.com
Contact Us with any questions
SampronSisters.com - Your Westridge Knolls Neighbor - Your Highlands Ranch REALTORS®
Colorado real estate :: Colorado real estate :: Colorado real estate :: Colorado real estate ::
Colorado homes for sale :: Colorado homes for sale :: Colorado homes for sale :: Colorado homes for sale ::
Colorado realtors :: Colorado realtors :: Colorado realtors :: Colorado realtors ::
Colorado real estate agents :: Colorado real estate agents :: Colorado real estate agents ::
Colorado relocation :: Colorado relocation :: Colorado relocation :: Colorado relocation ::
Highlands Ranch real estate :: Highlands Ranch real estate :: Highlands Ranch real estate :: Highlands Ranch real estate ::
Highlands Ranch homes for sale :: Highlands Ranch homes for sale :: Highlands Ranch homes for sale :: Highlands Ranch homes for sale ::
Highlands Ranch realtors :: Highlands Ranch realtors :: Highlands Ranch realtors :: Highlands Ranch realtors ::
Highlands Ranch real estate agents :: Highlands Ranch real estate agents :: Highlands Ranch real estate agents ::
Highlands Ranch relocation :: Highlands Ranch relocation :: Highlands Ranch relocation :: Highlands Ranch relocation ::
Highlands Ranch home values :: Highlands Ranch home values :: Highlands Ranch home values :: Highlands Ranch home values ::
Denver real estate :: Denver real estate :: Denver real estate :: Denver real estate ::
Denver homes for sale :: Denver homes for sale :: Denver homes for sale :: Denver homes for sale ::
Denver realtors :: Denver realtors :: Denver realtors :: Denver realtors ::
Denver real estate agents :: Denver real estate agents :: Denver real estate agents ::
Denver relocation :: Denver relocation :: Denver relocation :: Denver relocation ::
Denver home values :: Denver home values :: Denver home values :: Denver home values ::
Littleton real estate :: Littleton real estate :: Littleton real estate :: Littleton real estate ::
Littleton homes for sale :: Littleton homes for sale :: Littleton homes for sale :: Littleton homes for sale ::
Littleton realtors :: Littleton realtors :: Littleton realtors :: Littleton realtors ::
Littleton real estate agents :: Littleton real estate agents :: Littleton real estate agents ::
Littleton relocation :: Littleton relocation :: Littleton relocation :: Littleton relocation ::
Littleton home values :: Littleton home values :: Littleton home values :: Littleton home values ::
Parker real estate :: Parker real estate :: Parker real estate :: Parker real estate ::
Parker homes for sale :: Parker homes for sale :: Parker homes for sale :: Parker homes for sale ::
Parker realtors :: Parker realtors :: Parker realtors :: Parker realtors ::
Parker real estate agents :: Parker real estate agents :: Parker real estate agents ::
Parker relocation :: Parker relocation :: Parker relocation :: Parker relocation ::
Parker home values :: Parker home values :: Parker home values :: Parker home values ::
Centennial real estate :: Centennial real estate :: Centennial real estate :: Centennial real estate ::
Centennial homes for sale :: Centennial homes for sale :: Centennial homes for sale :: Centennial homes for sale ::
Centennial realtors :: Centennial realtors :: Centennial realtors :: Centennial realtors ::
Centennial real estate agents :: Centennial real estate agents :: Centennial real estate agents ::
Centennial relocation :: Centennial relocation :: Centennial relocation :: Centennial relocation ::
Centennial home values :: Centennial home values :: Centennial home values :: Centennial home values :: SampronSisters.com of Home Real Estate :: SampronSisters.com of Home Real Estate :: SampronSisters.com of Home Real Estate :: SampronSisters.com of Home Real Estate :: Your Westridge Knolls Neighbor Your Highlands Ranch Realtors :: Your Westridge Knolls Neighbor Your Highlands Ranch Realtors :: Your Westridge Knolls Neighbor Your Highlands Ranch Realtors :: Your Westridge Knolls Neighbor Your Highlands Ranch Realtors :: TeamSampron.com of HomeSmart Realty Group :: TeamSampron.com of HomeSmart Realty Group :: TeamSampron.com of HomeSmart Realty Group :: TeamSampron.com of HomeSmart Realty Group :: TeamSampron.com of HomeSmart Real Estate :: TeamSampron.com of HomeSmart Real Estate :: TeamSampron.com of HomeSmart Real Estate :: TeamSampron.com of HomeSmart Real Estate ::